Adaptive Cutting System Saw + Guide Track Kit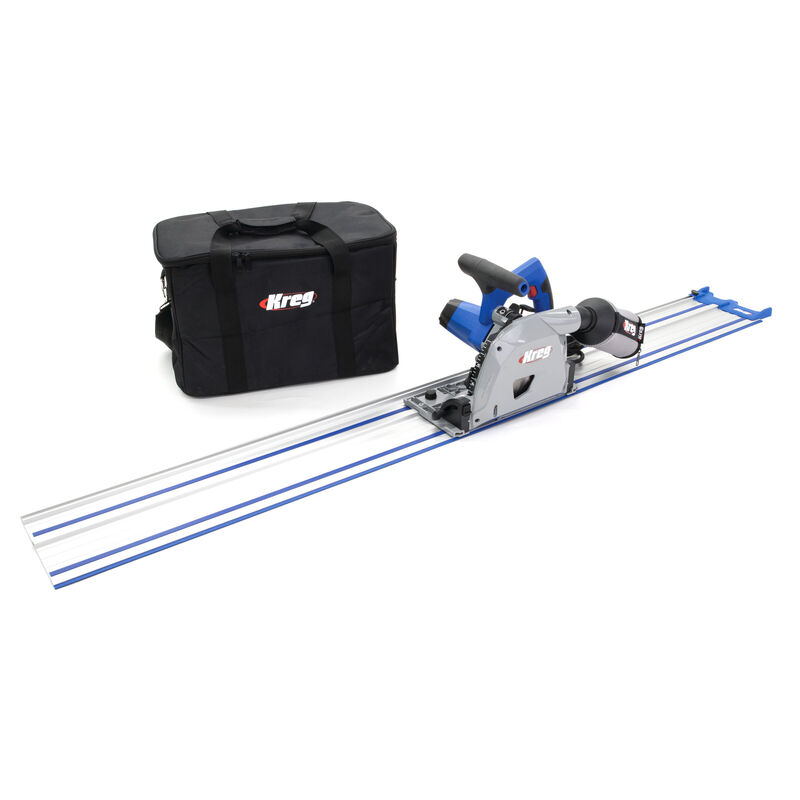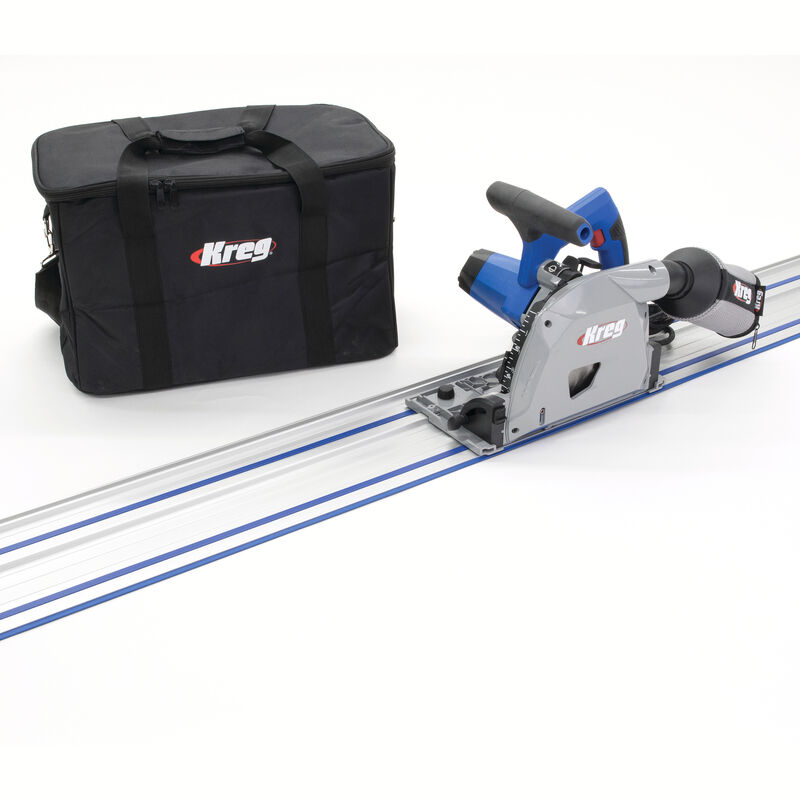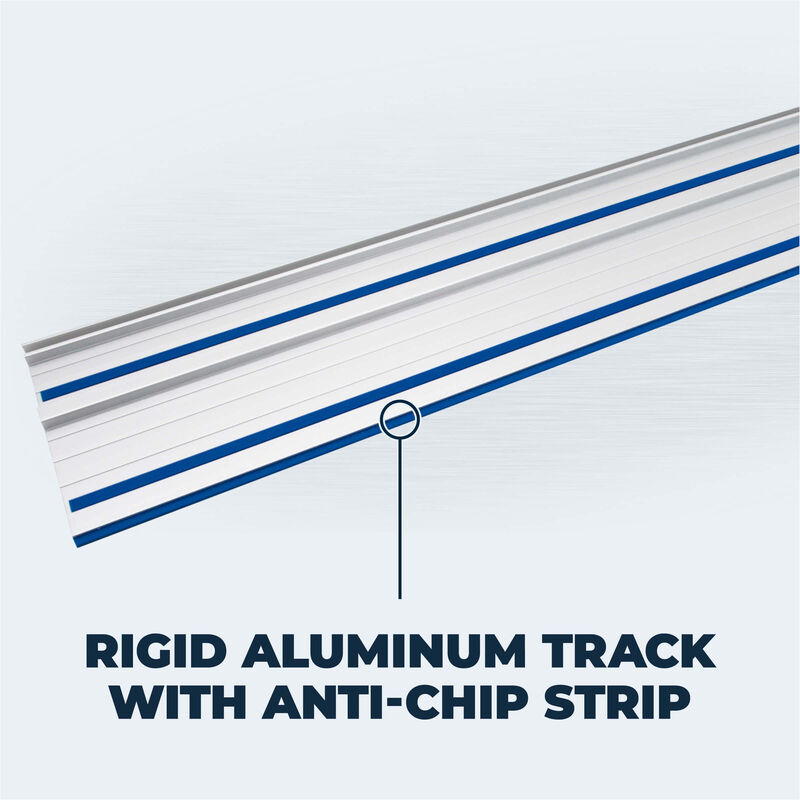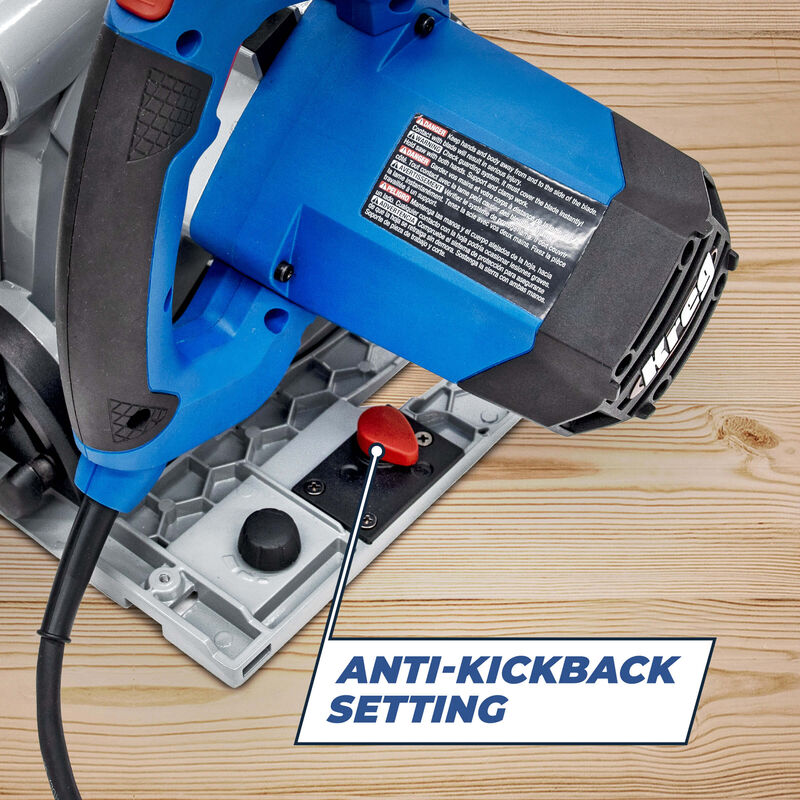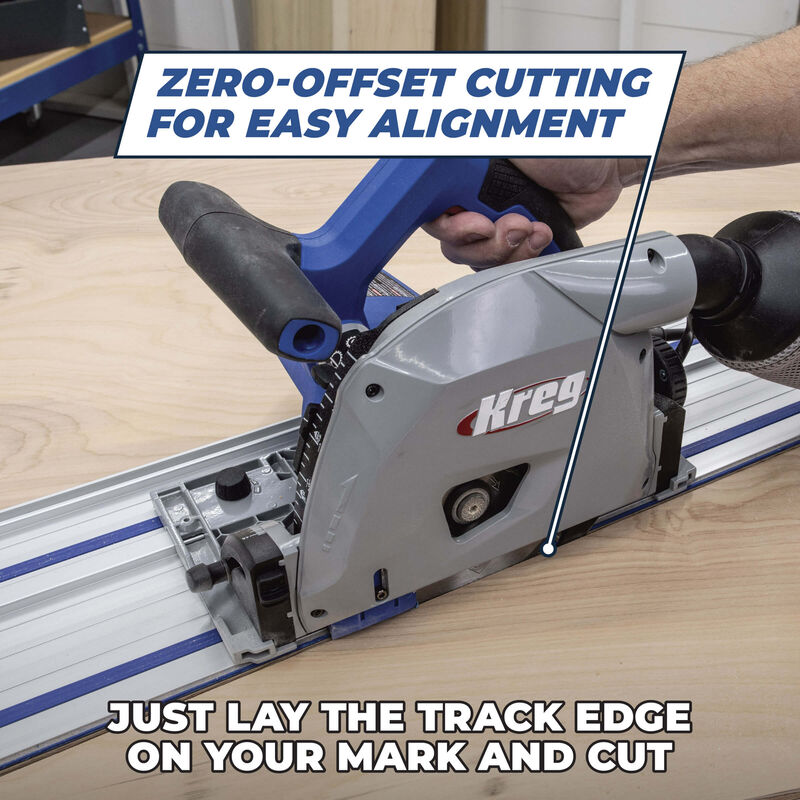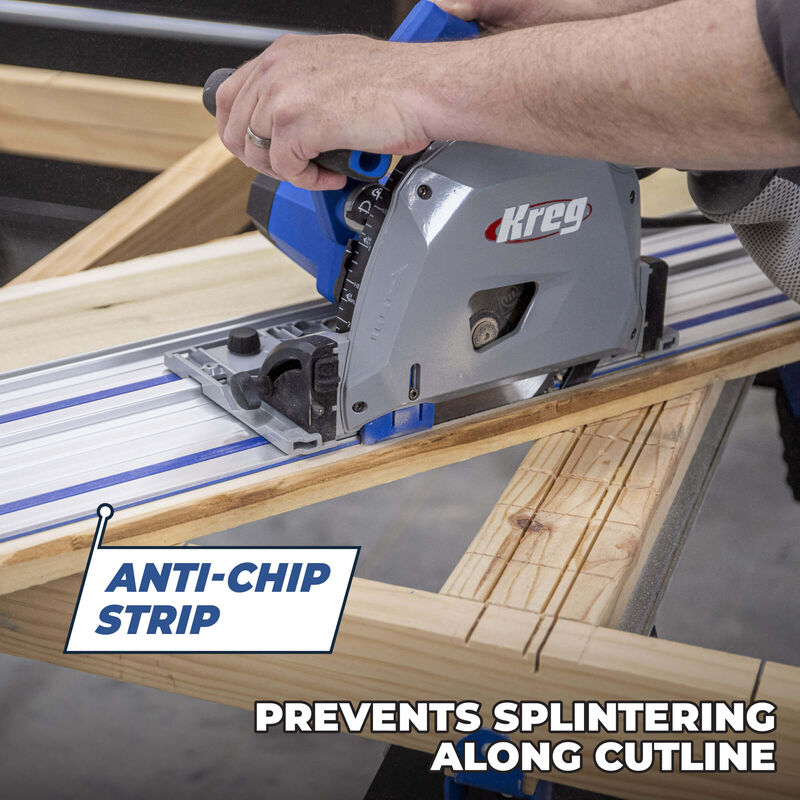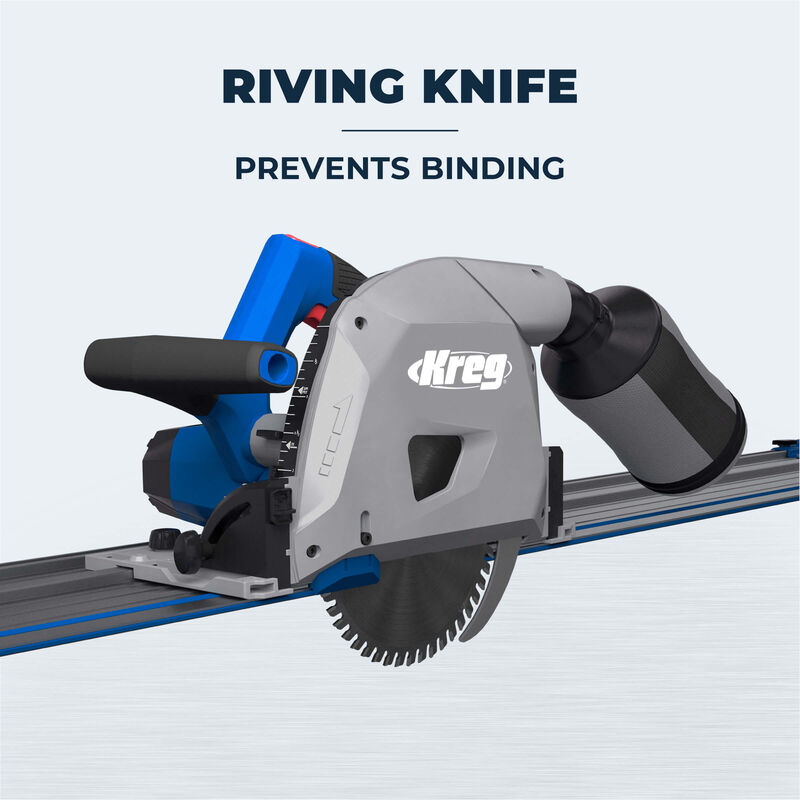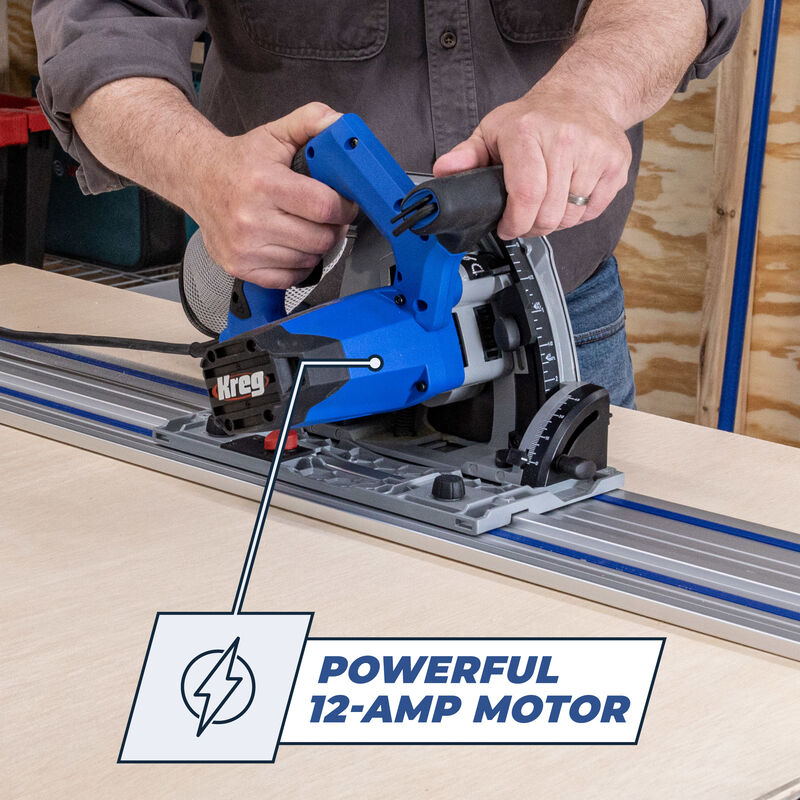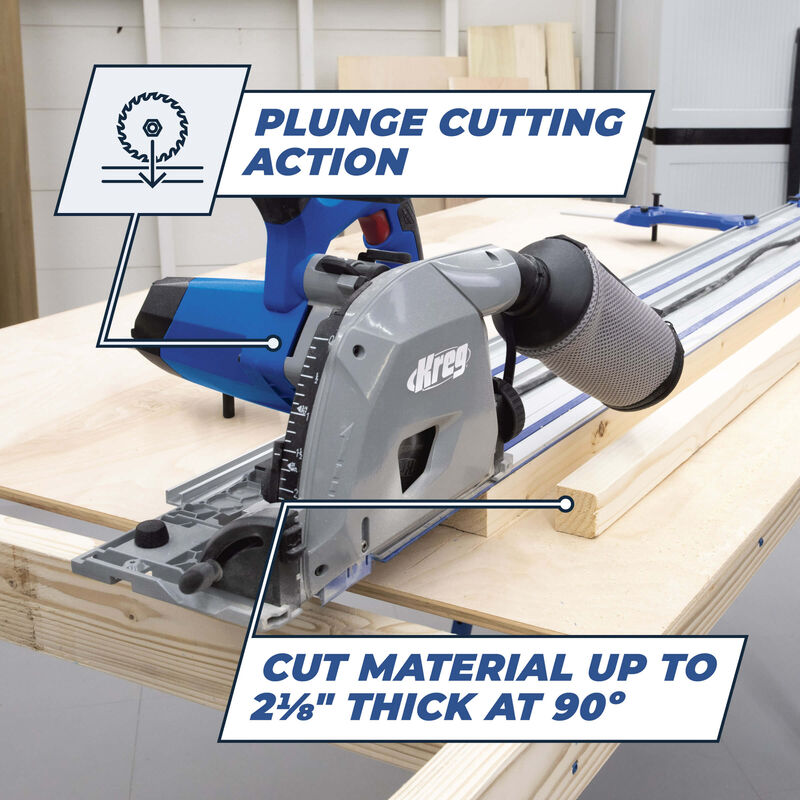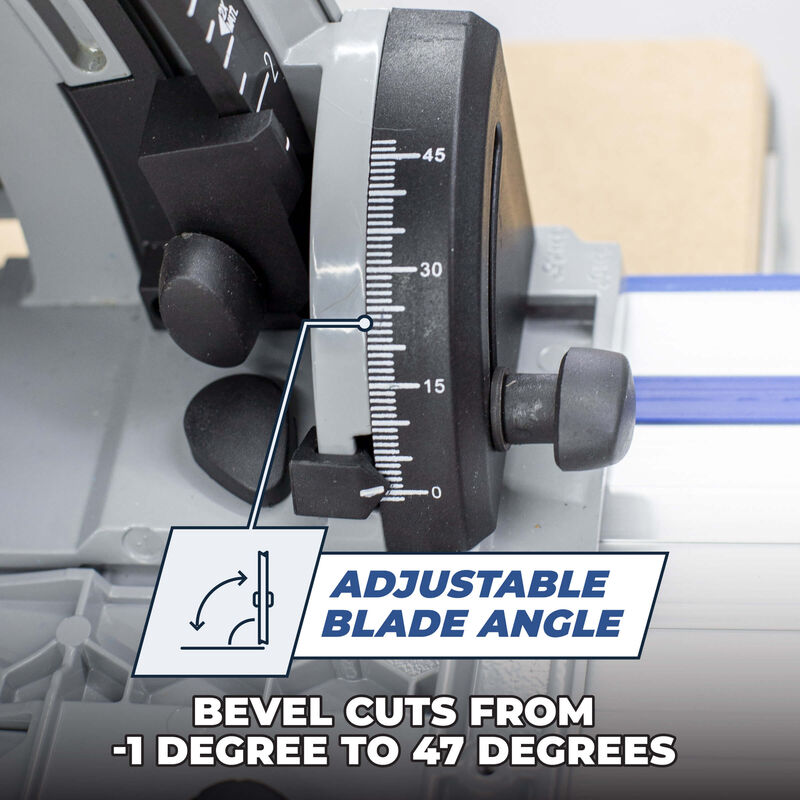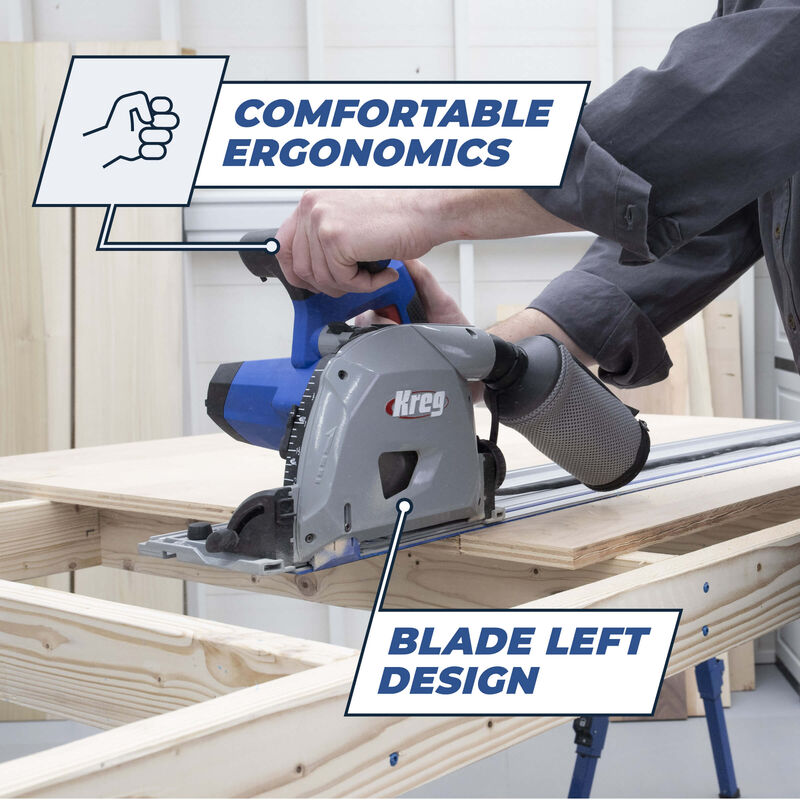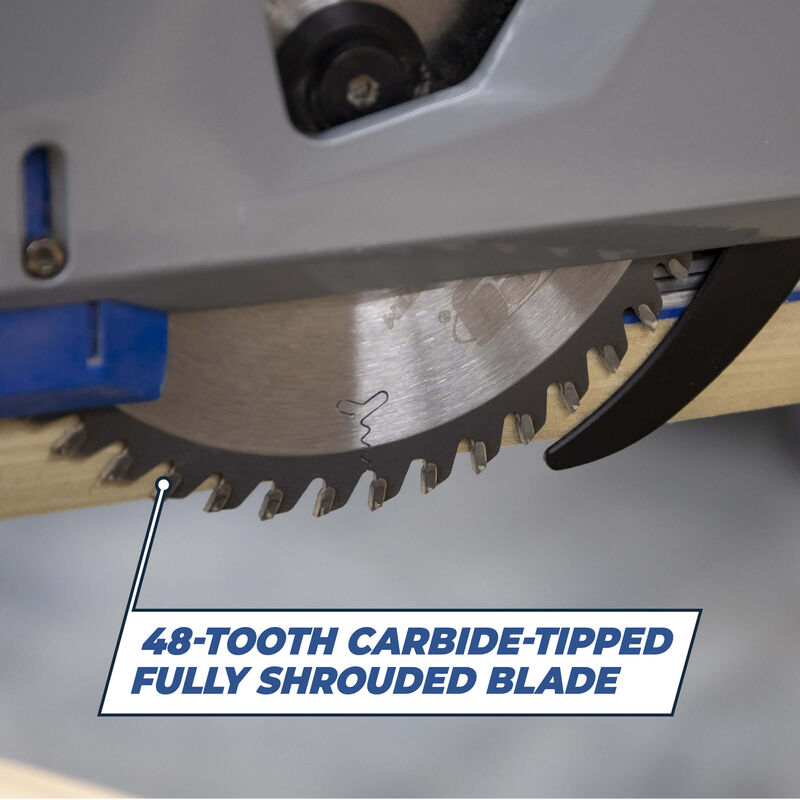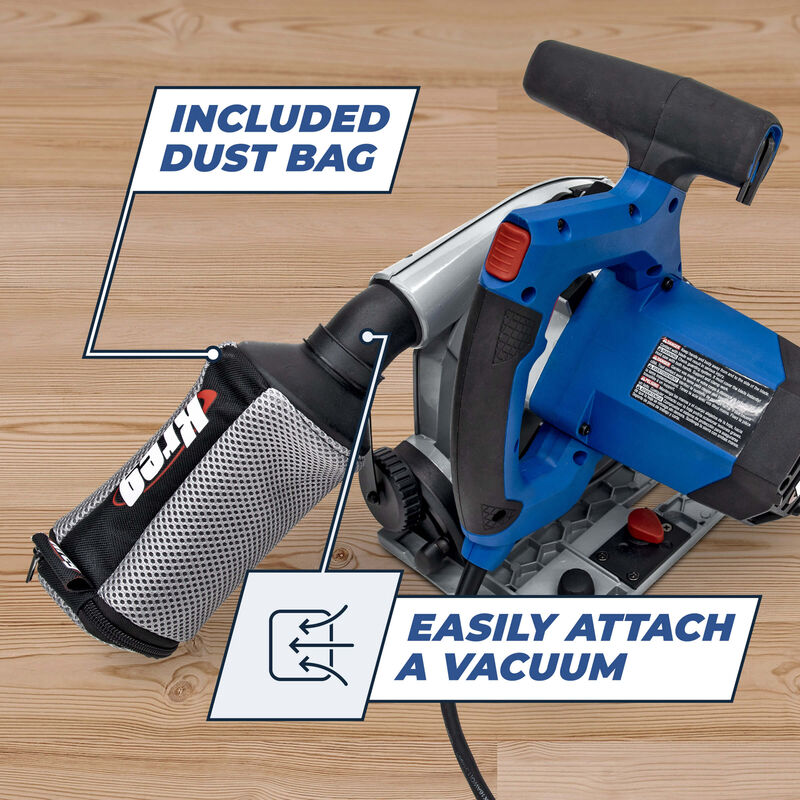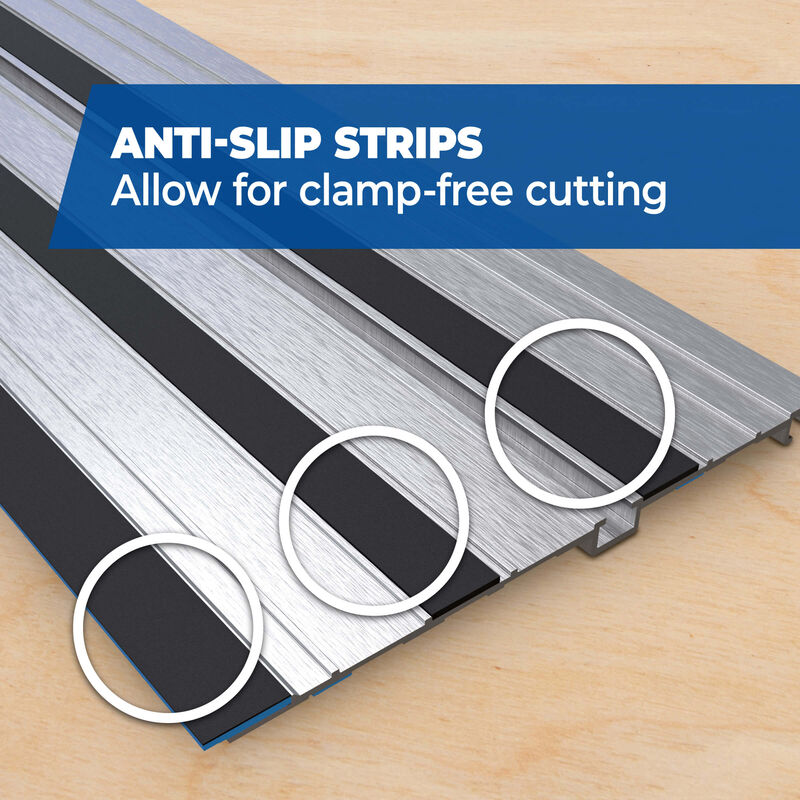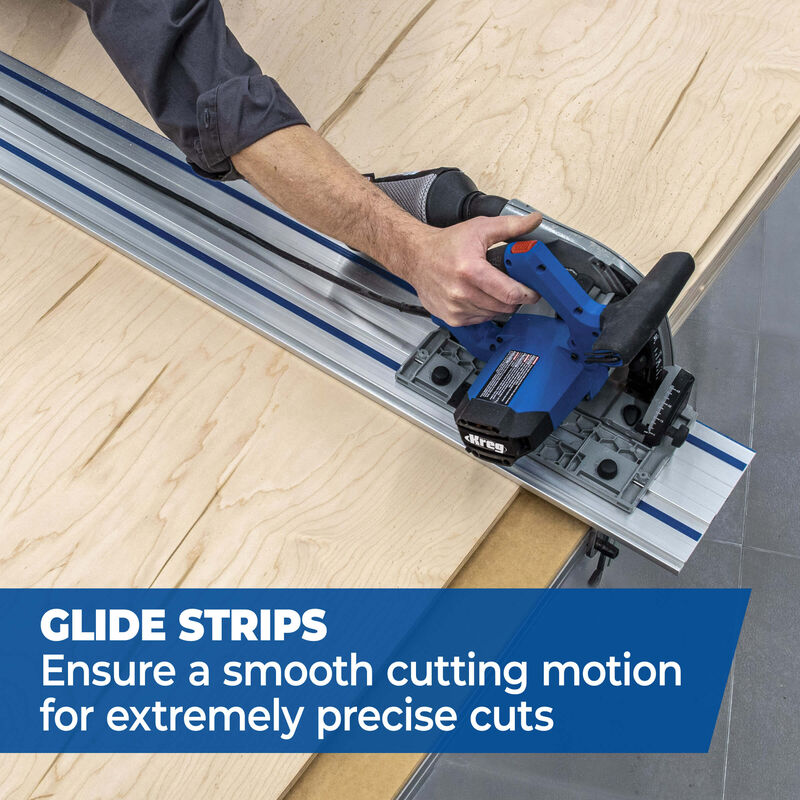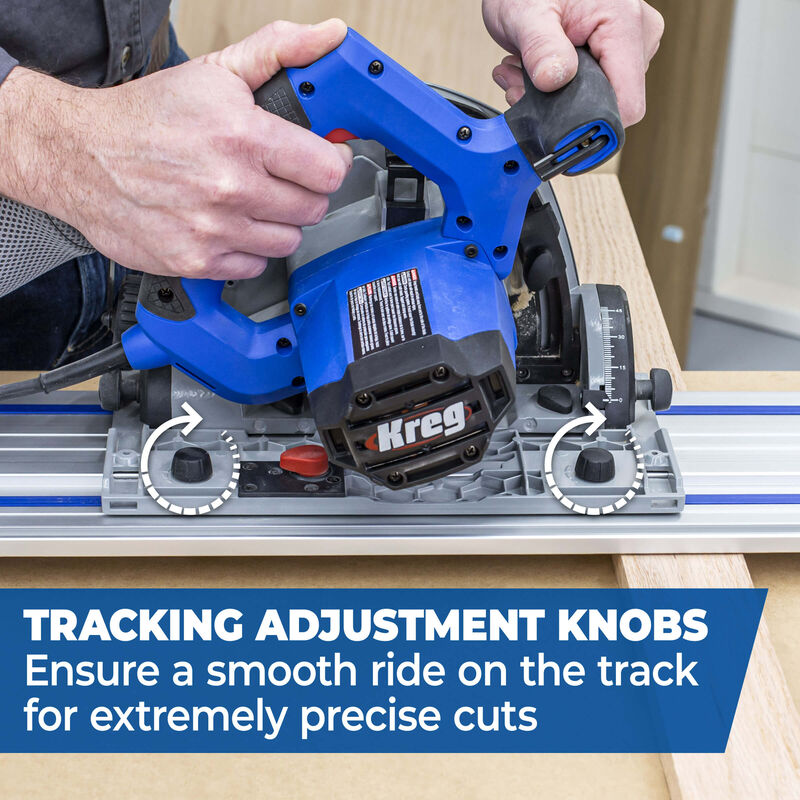 Adaptive Cutting System Saw + Guide Track Kit
Plunge-cutting circular saw with powerful 12-amp, 120-volt variable-speed motor with load compensation, fully-shrouded retracting blade, riving knife, electronic blade brake, and anti-kickback control
Zero-offset design aligns track edge with exact cut location, while anti-chip strip provides smooth, splinter-free cutting
62" aluminum guide track allows use as a standalone track saw, or on the Adaptive Cutting System Project Table
2 1/8" maximum cut at 90° and 1 1/2" at 45°, -1° to 47° bevel capacity
Plunge-cutting track saw and guide track for making straight, smooth, splinter-free cuts in solid wood and sheet goods
Discover the advantages of track-saw cutting with the Adaptive Cutting System Saw + Guide Track Kit. This kit includes the Adaptive Cutting System Plunge Saw and the 62" Guide Track to provide everything needed to make straight, accurate, smooth, and splinter-free cuts in plywood, other sheet goods, and in solid-wood boards. The Saw + Guide Track Kit provides the unparalleled control and precision of a track saw with a cutting capacity up to 50". This makes precision cutting as easy as laying the 62" Guide Track where you want to cut, and then guiding the saw along.
The Plunge Saw is incredibly versatile, with 2 1/8" maximum cutting depth from the included 48-tooth, carbide-tipped blade, plus bevel-cutting capability from -1° to 47°. With a 12-amp motor, the Plunge Saw delivers power to cut through even thick hardwoods. Variable-speed provides more control, while an electronic blade brake stops the blade quickly at the end of the cut. Anti-kickback control provides increased safety. An included dust port and bag collect chips to minimize cutting mess and provide the ability to connect to a vacuum hose.
The Plunge Saw is designed to work with the 62" Guide Track. The saw's blade-left design is optimized for right-handed users to provide superior cutting visibility and control.
The Adaptive Cutting System 62" Guide Track is made from durable but lightweight aluminum, and it features an anti-chip strip along the cutting edge that prevents splintering. Anti-slip strips on the underside of the track hold the track in place without clamps. Glide strips on top guide the saw smoothly. The track features a zero-offset design that aligns the edge of the track exactly with the cutline to ensure accurate positioning. A cord manager helps guide the saw cord, as well as a dust-collection hose if the saw is connected to a shop vacuum.
The Adaptive Cutting System Saw + Guide Track Kit can be used as a standalone track saw for versatile, precise cutting. You can also connect a second 62" Guide Track for 112" of track-saw cutting capacity. Optional Rip Guides and Parallel Guides (sold separately) can be used with the Plunge Saw + Guide Track Kit to provide integrated measuring and track positioning.
The Adaptive Cutting System Saw + Guide Track Kit can also be mounted to the Adaptive Cutting System Project Table to create a multiuse cutting system. This expands capability beyond ordinary track saws, so you can rip and crosscut solid wood, cut miters and tapers, and support sheet goods easily and confidently while you cut.
features
Fully-shrouded blade
Retractable riving knife
Electronic blade brake
Integrated dust collection
Anti-chip, anti slip strips on track
Tracks can be paired for longer cuts
Carrying bag holds saw and optional accessories
construction
Saw: aluminum, steel, polymer; Track: anodized aluminum
adjustability
-1° to 47° bevel cutting
0" to 2 1/8" cutting depth
2,000-6,000 rpm motor speed
capacity
2 1/8" maximum cut at 90° and 1 1/2" at 45°
50" cutting capacity off Project Table, 48" capacity on Project Table
power
120-volt, 12-amp variable speed saw motor with load compensation and electronic brake
compatibility
Project Table Kit
62" Guide Track
Track Connectors
Rip Guides
Parallel Guides
48-Tooth Saw Blade
Splinter Guards
Anti-Chip Strip + Foam Strips
Glide Strips
includes
(1) Plunge Saw with carrying bag
(1) 62" Guide Track with Cord Manager
(1) Owner's Manual
warranty
2 Year Warranty on Plunge Saw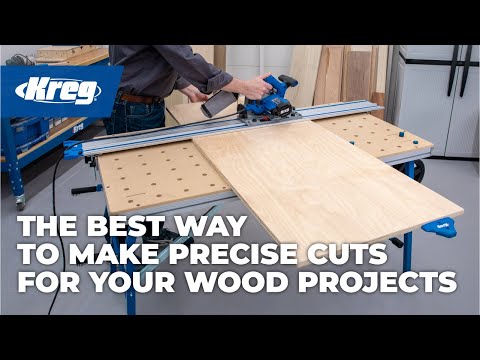 The Best Way To Make Precise Cuts: Kreg® Adaptive Cutting System Track Saw & Guide Track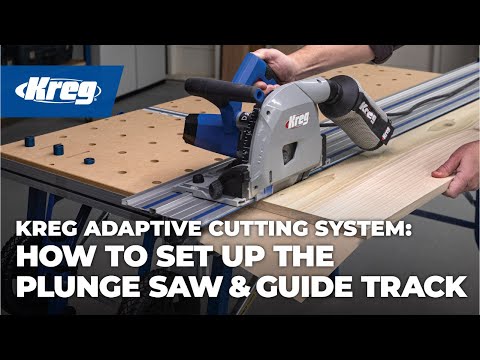 How To Set Up The Kreg® Adaptive Cutting System Track Saw & Guide Track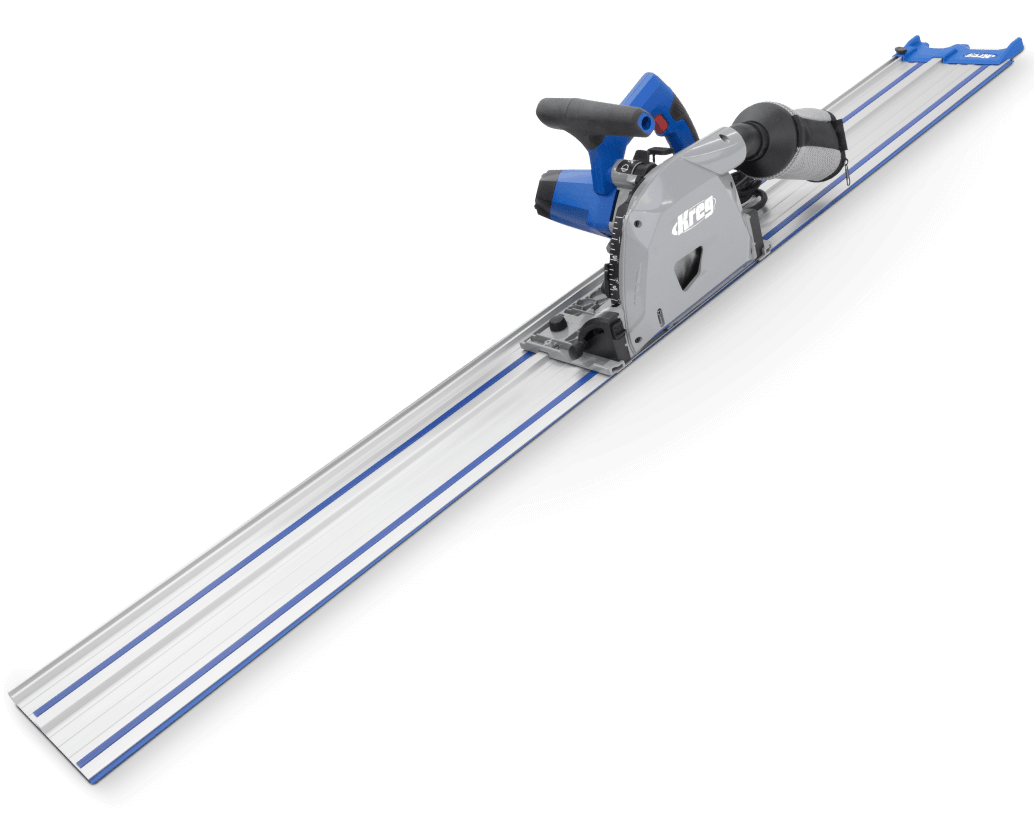 Keeping your cuts on track
The standard for guided cutting.

Versatile
Crosscut, rip, miter, and make perfect angles in plywood, hardwood, and dimensional boards.

Precise
Designed for consistently straight, accurate cuts and unmatched quality.

Safe
Work confidently with anti-kickback features and an enclosed blade that help protect you from close calls.

Portable
Carrying bag makes is easy to take the saw wherever your work takes you.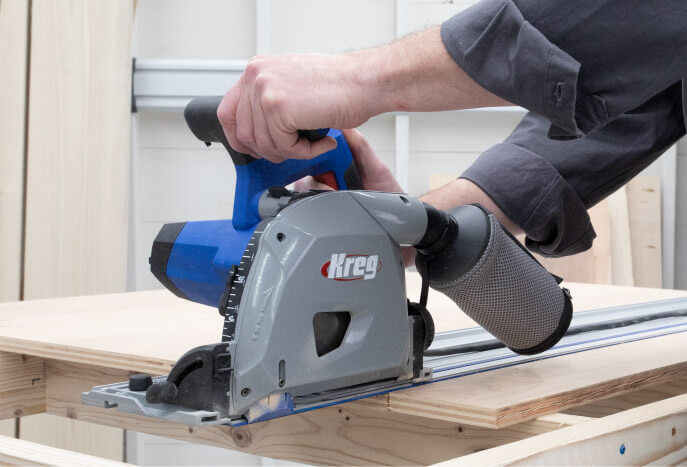 Easy
Simple setup and comfortable ergonomics make precision cutting easy.
Adaptable
Use by itself or turn the ACS Saw + Track Guide Kit into an all-in-one cutting system by combining with the Adaptive Cutting System Project Table Kit.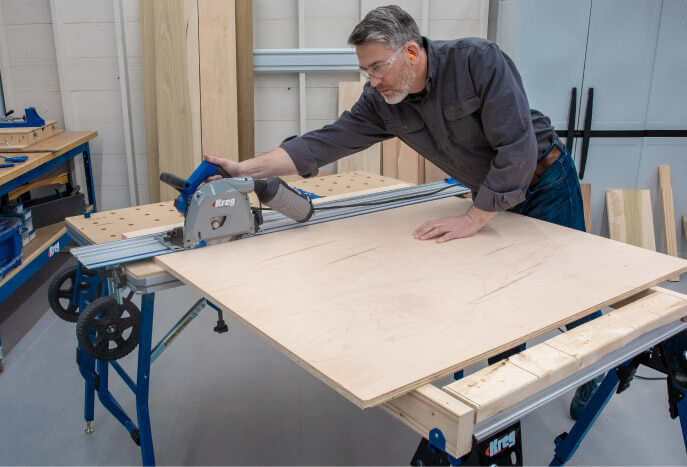 Accurate
Maximum control and accuracy with the precision Guide Track.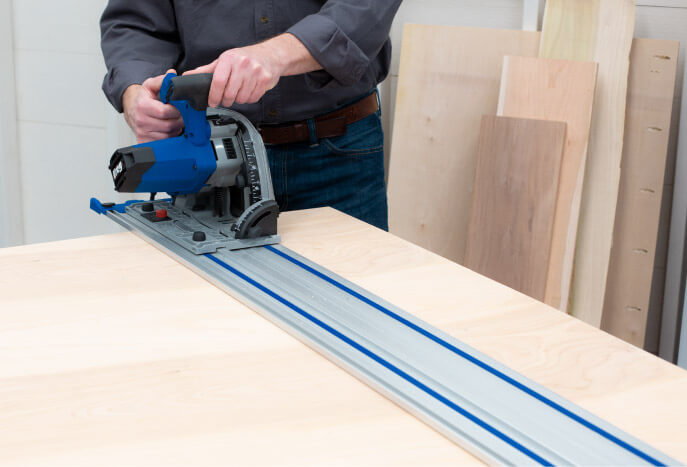 Flexible
Guide Track can be placed on other worksurfaces for off-table cutting.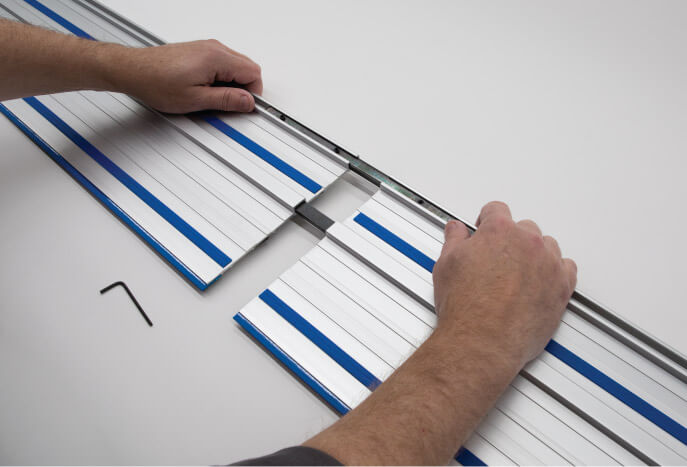 Expandable
Combine two Guide Tracks for perfectly straight cuts across longer materials.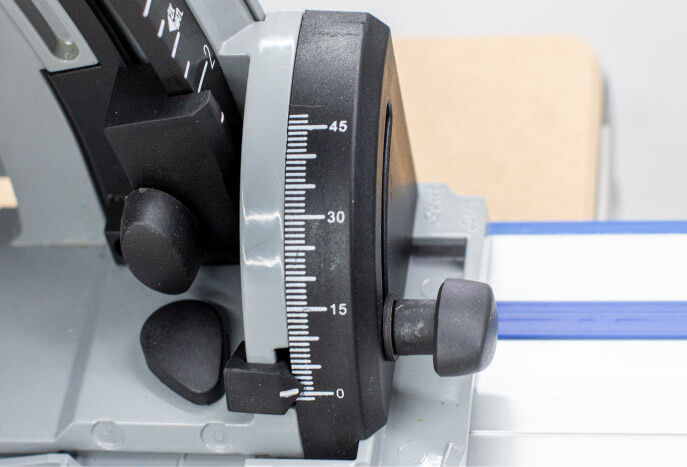 Adjustable
Set the blade angle to make bevel cuts from -1° to 47°.