Treat your favorite woodworker to something they'll love.
Our tools, accessories, and apparel make perfect gifts, no matter the occasion or time of year.
Indoors or outdoors, simple to complex, we have hundreds of project plans that will get your creativity flowing.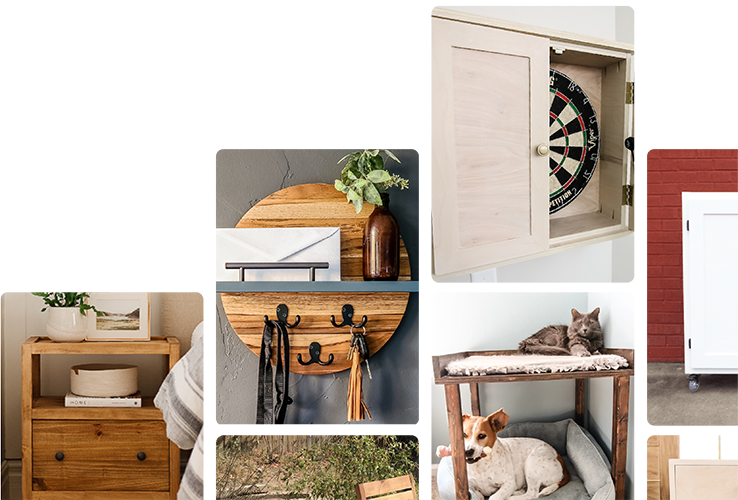 What Should You Get Someone Who is Into Woodworking?
If you have a friend or family member who is into woodworking, there are several gift options you can consider that would be useful and appreciated. Here are some ideas:
Quality Hand Tools
High-quality hand tools are essential for any woodworker, and a good set of chisels, hand planes, saws, or carving tools can make all the difference in their woodworking projects. Consider purchasing a set of high-quality hand tools or a specialized tool that they may not already have in their collection.
Woodworking Books or Magazines
A good woodworking book or magazine can provide inspiration and instruction for woodworking projects. Look for books on specific woodworking techniques or styles, or a magazine subscription to a popular woodworking publication.
Safety Gear
Safety gear such as safety glasses, ear protection, dust masks, and gloves are essential for any woodworking project. A set of high-quality safety gear can help ensure that your loved one is protected while they work.
Woodworking Classes or Workshops
If your loved one is interested in learning new techniques or skills, consider signing them up for a woodworking class or workshop. These classes can provide hands-on instruction and access to specialized tools and equipment.
Woodworking Supplies
Woodworking supplies such as sandpaper, glue, clamps, and finishing products are always useful for any woodworking project. Consider putting together a gift basket of essential woodworking supplies.
Woodworking Project Kits
Project kits that include pre-cut wood pieces and instructions for a specific project can be a fun and rewarding gift for a woodworker. Look for kits that align with their interests, such as furniture making or carving.
Gift Cards
If you're not sure what to get your loved one, a gift card to a woodworking supply store or big box home improvement store can allow them to choose their own tools or supplies according to their needs and preferences.
What Tools Does a Woodworker Need?
A woodworker typically needs a variety of tools to effectively work with wood. Here are some of the essential tools for woodworking:
Saws
Cutting tools — hand saws, circular saws, miter saws, table saws, bandsaws, jigsaws — are a staple of any woodworker's tool kit.
Measuring Tools
Measuring tools such as a tape measure, ruler, and square are essential for accurate measuring and cutting.
Clamps
Clamps hold pieces of wood in place while they are being worked on or glued.
Drill
A drill is necessary for creating pocket-hole joints, shelf pins holes, cabinet hardware pilot holes, hinge pilot holes, and more.
Driver
Screwdrivers and cordless drivers are used to drive screws into wood.
Pocket-Hole Jig
Pocket-hole jigs make it fast and easy to join wood together.
Cabinet and Drawer Jigs
These handy tools take the guesswork out of measuring and marking, and help stabilize and hold drawers and cabinet doors during installation.

Router
A router is used for cutting and shaping wood.
Planer
A planer is used to create flat and even surfaces on rough wood.
Lathe
A lathe is used for turning wood into various shapes, such as bowls or spindles.
These are just a few examples of the tools a woodworker might use. The specific tools needed will depend on the type of projects being done and the skill level of the woodworker.