Woodworking Kit - Step Stool Bundle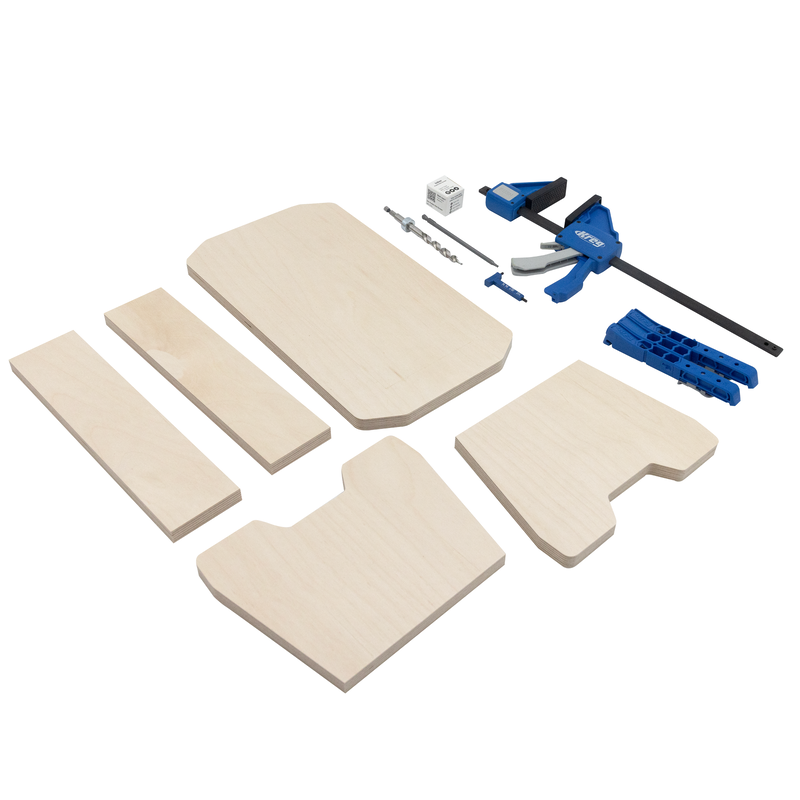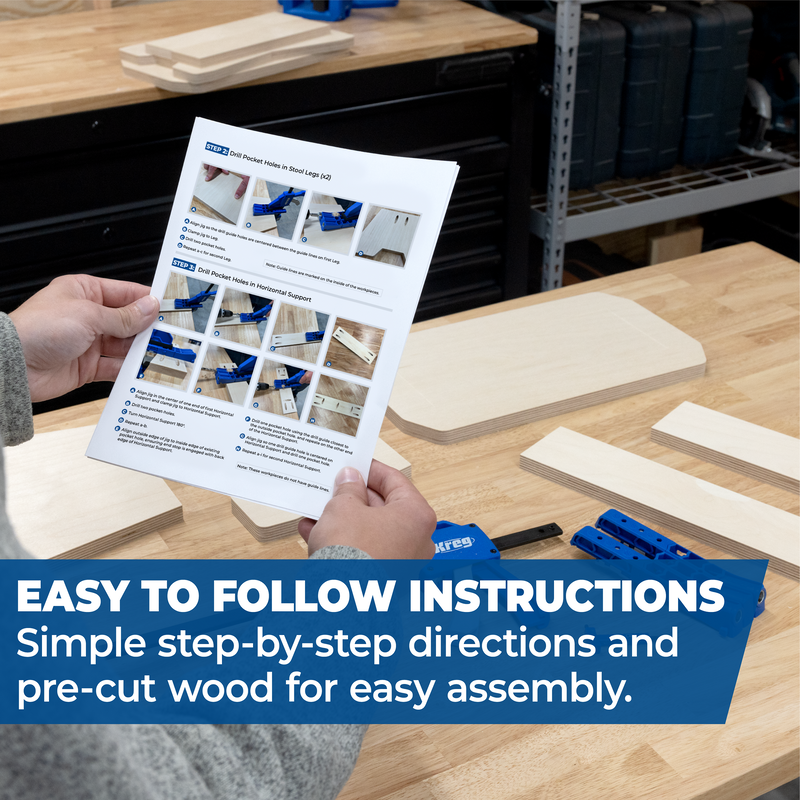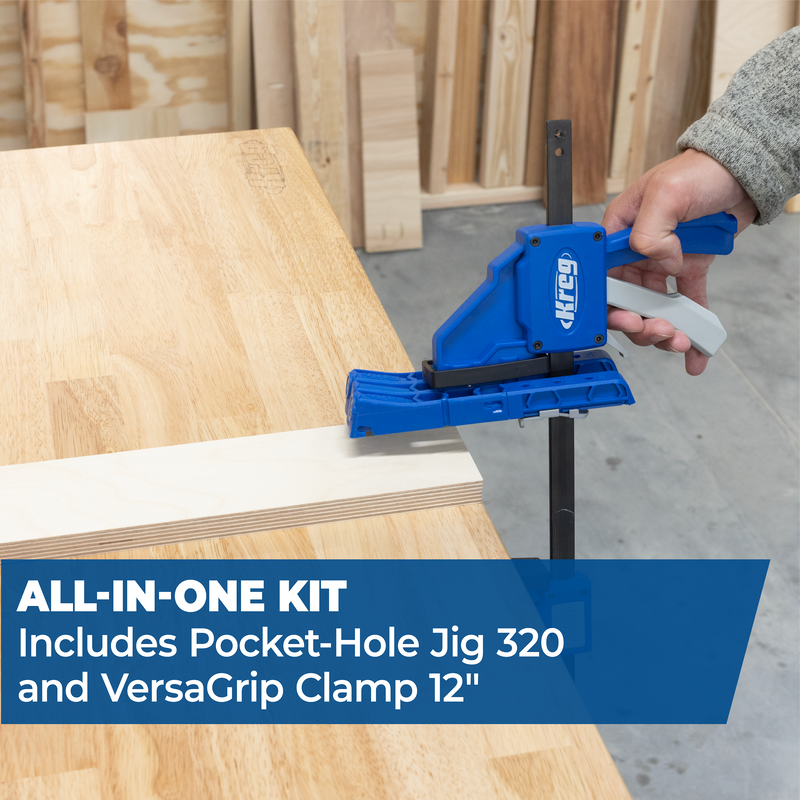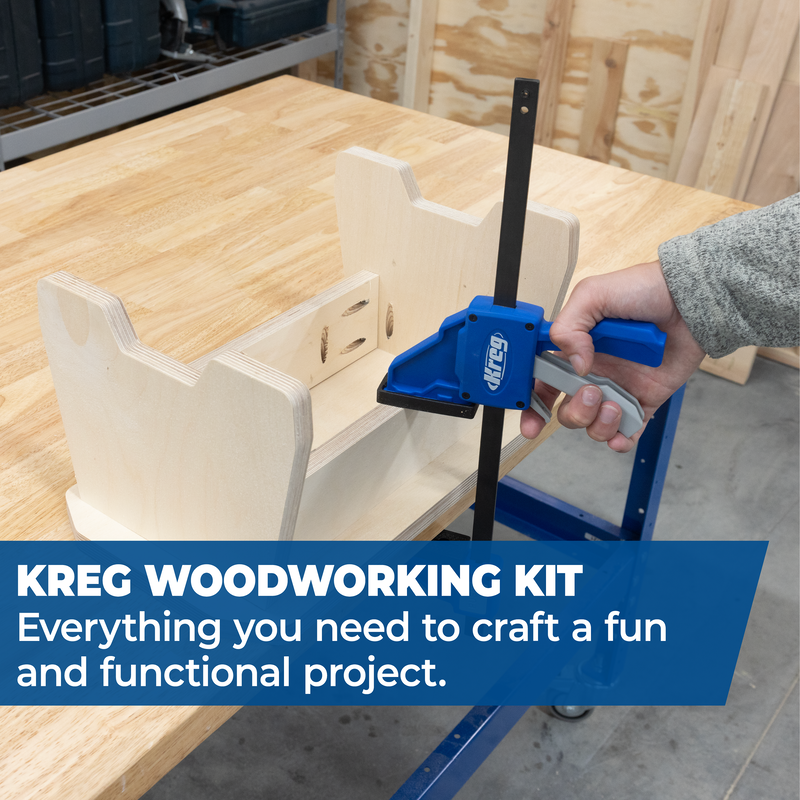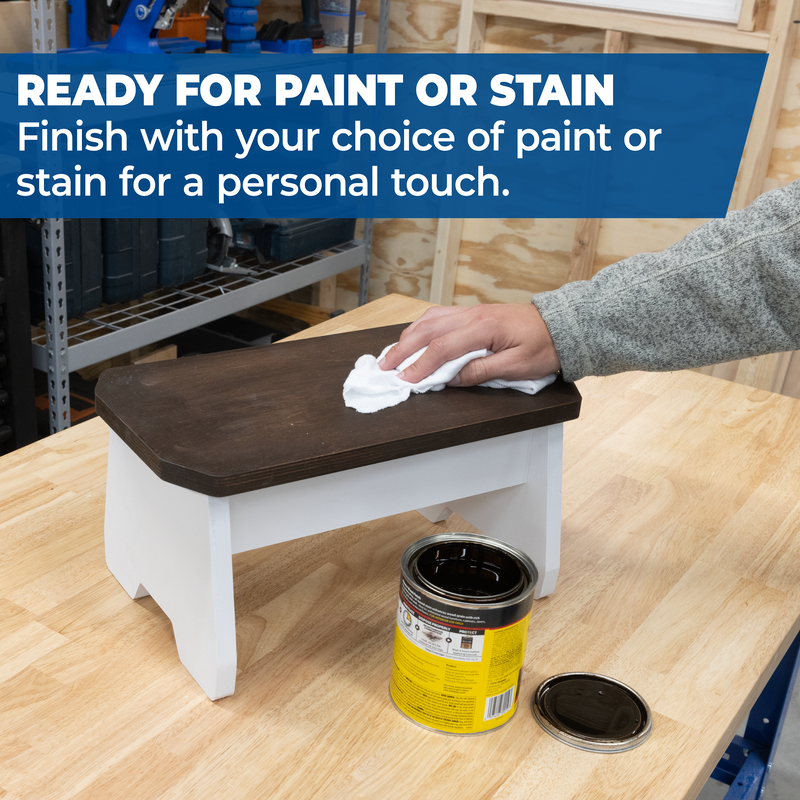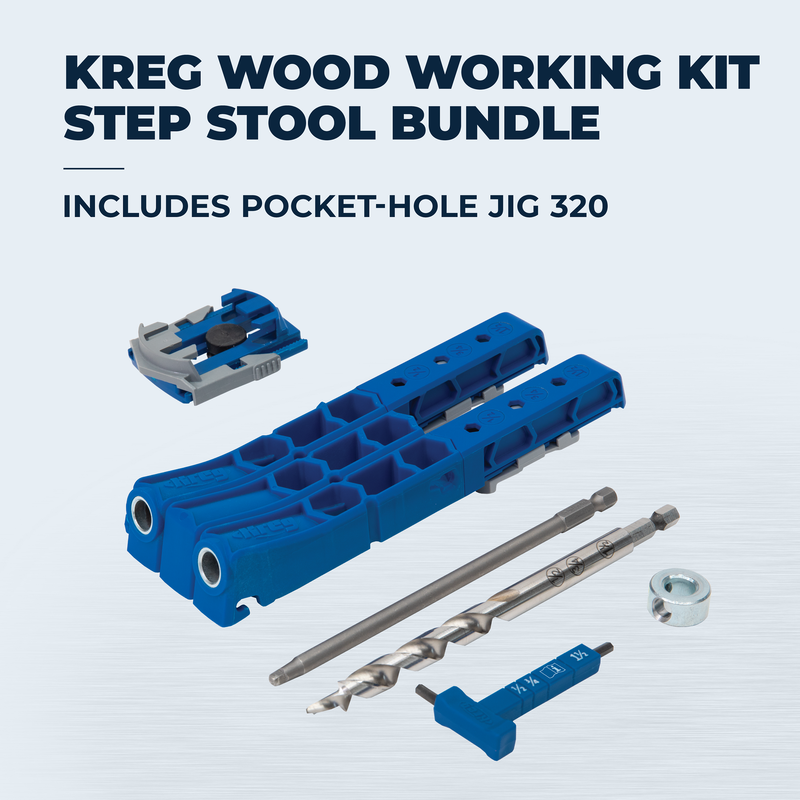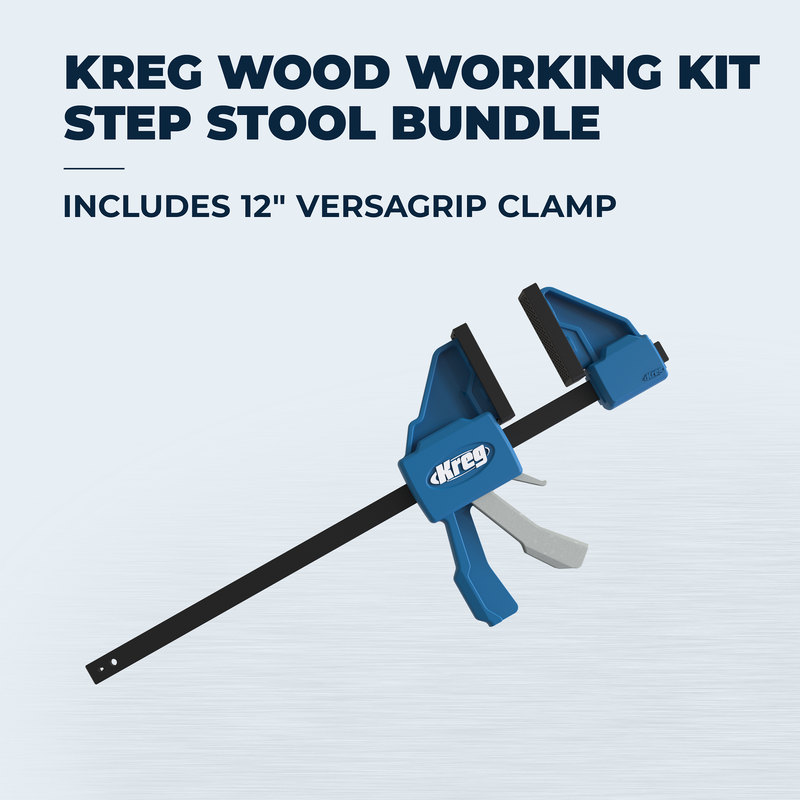 Woodworking Kit - Step Stool Bundle
Complete starter kit that includes premium precut step stool pieces, VersaGrip(TM) Clamp – 12", Kreg Pocket-Hole Jig 320, pocket-hole screws, and detailed assembly instructions
Perfect for beginners — build your woodworking skills with this easy-to-follow DIY step stool kit
Complete bundle offers over $85 worth of total value
Use your pocket-hole jig to create rock-solid pocket-hole joints efficiently. Just Drill. Drive. DONE!
Made of ¾" cabinet-grade hardwood plywood with two finished sides
Great as a gift or for craft projects
Customize to fit your needs – ready for paint or stain
Kreg Pocket-Hole Jig 320 is a complete pocket-hole kit for building DIY wood projects
Simple set up and easy to use material thickness stops for common DIY materials, ½", ¾", and 1 ½"
Durable construction to last for years
Lifetime drill-guide warranty
Foolproof setup with material thickness gauge, positive stops, and easy-set drill bit with stop collar
Bonus items – includes 3" and 6" pocket-hole driver bits
Start your woodworking journey with the Kreg Woodworking Kit – Step Stool Bundle, the perfect gateway to unleashing your creativity and honing your woodworking skills. Whether you're a beginner eager to learn, or a seasoned craftsman seeking a rewarding project, this DIY kit offers an engaging and fulfilling experience from start to finish.
This bundle includes pre-cut wood and detailed assembly instructions, giving you a solid basis to craft a functional and stylish addition to your living space. Featuring CNC-machined, ¾" cabinet-grade hardwood plywood, this kit elevates your projects with exceptional quality and sturdy construction.
To help you build projects with minimal effort and maximum confidence, we're bundling in our Pocket-Hole Jig 320 and VersaGrip(TM) Clamp – 12" for a true project kit with everything you need to create a rock-solid, functional step stool.
As a special bonus, 3" and 6" #2 pocket-hole driver bits are also included. The 6" version offers the most flexibility and ease-of-use for your projects, while the 3" version is handy when you're working in tight spots where the 6" driver can't reach.
Elevate your woodworking skills and create functional pieces with the Kreg Woodworking Kit - Step Stool. From the joy of assembling to the pride of showcasing your creation, this kit is your gateway to a world of crafting possibilities.
features
DIY 5-Piece Stool – made from of ¾" cabinet-grade hardwood plywood with two finished sides
Includes 3" and 6" square driver bits
Kreg Pocket Hole Jig 320 complete pocket-hole kit for building DIY wood projects
12" VersaGrip for Pocket-Hole Jig and Assembly ease
construction
12" VersaGrip for Pocket Hole Jig and Assembly ease
Kreg Pocket Hole Jig 320 made with durable plastic polymer, hardened steel
compatibility
Kreg Pocket-Hole Jigs
Kreg Pocket Hole Screws – 1 1/4" Softwood
Kreg Automaxx Clamps
Kreg VersaGrip Clamps
includes
(2) Side Supports
(2) Cross Support Members
(1) Top
(1) Kreg Pocket-Hole Jig 320
(2) Drill Guides with Material Thickness Stops
(1) Drill Guide Spacer
(1) Easy-Set Drill Bit and Stop Collar
(1) Material Thickness Gauge/Hex Wrench
(1) Carrying Case
(40) Sample Screws
(1) 12" VersaGrip Clamp
(1) 3" (76mm) #2 square-drive bit
(2) 6" (152mm) #2 square-drive bit
(1) Assembly Instructions
warranty
Lifetime Drill Guide Warranty
WARNING! Improper assembly or excessive weight applied to the finished stool could result in injury. Follow all instructions provided for assembly. Kreg is not responsible for injuries as a result of improper assembly or use. Max load rating for this step stool is 250 lbs max.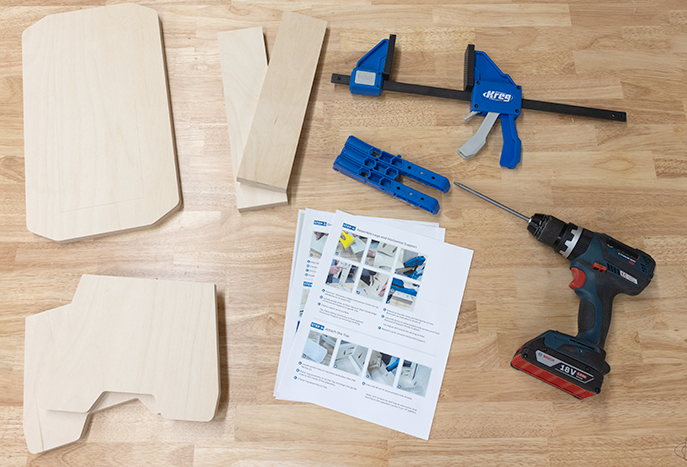 Simple
Step-by-step instructions make it easy for builders of all skill levels.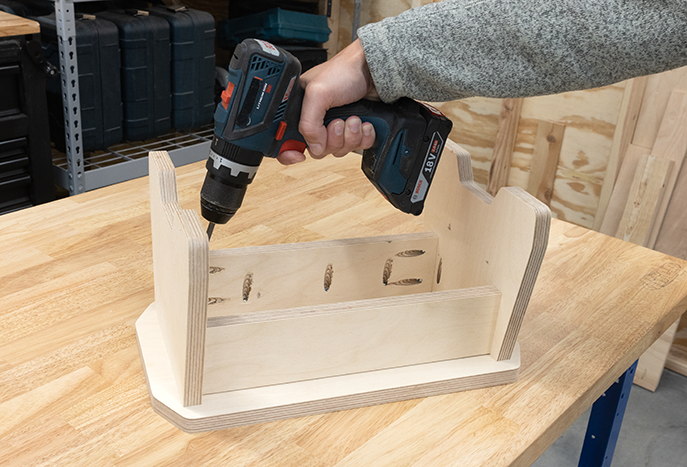 Giftable
Give a kit to a friend or family member who has an interest in woodworking.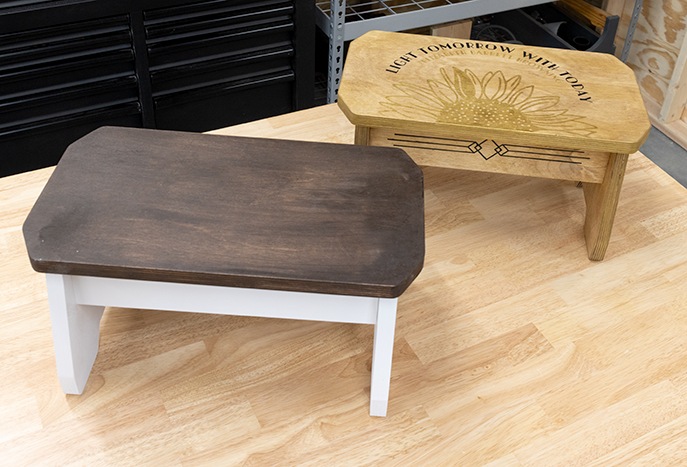 Customizable
Add your own personal touch with paint, stain, stencils, etc.