Blue-Kote™ Pocket-Hole Screws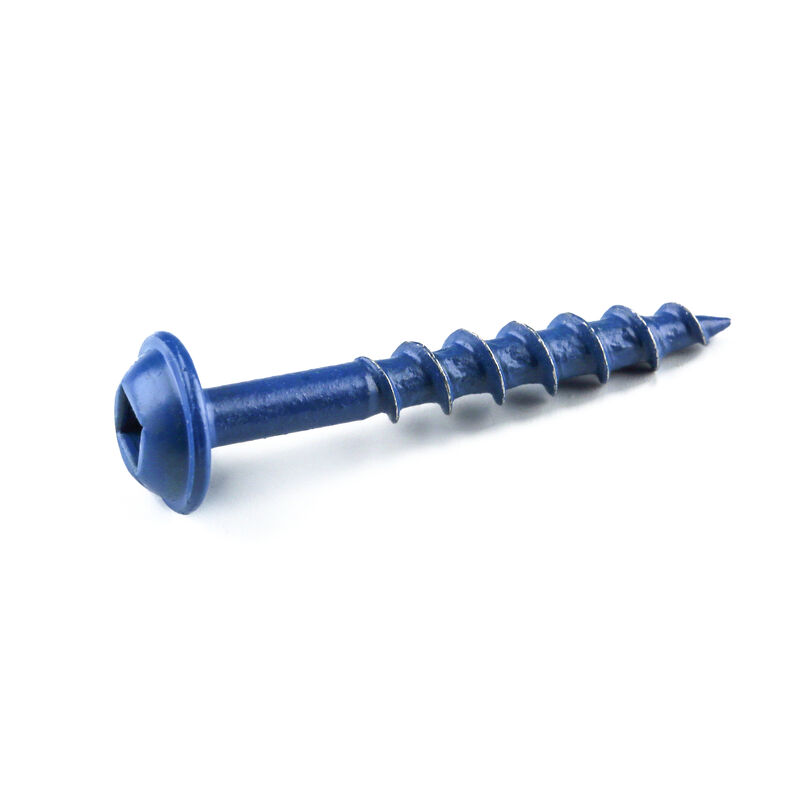 Availability:
Select options above to show availability
Product Details
Blue-Kote™ Screws feature three anti-corrosion layers, making them the perfect choice for a wide variety of indoor and outdoor projects. Blue-Kote™ Screws provide rust-resistance up to 400% greater than zinc-plated screws and work with pressure-treated material.
Available in a variety of sizes, thread options, head styles, and quantities. Use the chart below to select the right screw type for your application.
We take customer
satisfaction seriously.
If you have any questions, or issues for any reason, visit our Support Page for answers to common questions, and ways to contact us directly.
Specifications
Item
Application
Construction
Dimensions
Compatibility
Includes
SML-C125B-100
Outdoor
Blue-Kote™ with Coarse Thread and Maxi-Loc Head
1 1/4"

All Kreg® Pocket-Hole Jigs and Pocket-hole Machines
Kreg® Square-Drive Bits

(100) Blue-Kote™ Pocket-Hole Screws
SML-C125B-1200
Outdoor
Blue-Kote™ with Coarse Thread and Maxi-Loc Head
1 1/4"

All Kreg® Pocket-Hole Jigs and Pocket-hole Machines
Kreg® Square-Drive Bits

(1200) Blue-Kote™ Pocket-Hole Screws
SML-C150B-100
Outdoor
Blue-Kote™ with Coarse Thread and Maxi-Loc Head
1 1/2"

All Kreg® Pocket-Hole Jigs and Pocket-hole Machines
Kreg® Square-Drive Bits

(100) Blue-Kote™ Pocket-Hole Screws
SML-C150B-1200
Outdoor
Blue-Kote™ with Coarse Thread and Maxi-Loc Head
1 1/2"

All Kreg® Pocket-Hole Jigs and Pocket-hole Machines
Kreg® Square-Drive Bits

(1200) Blue-Kote™ Pocket-Hole Screws
SML-C2B-50
Outdoor
Blue-Kote™ with Coarse Thread and Maxi-Loc Head
2"

All Kreg® Pocket-Hole Jigs and Pocket-hole Machines
Kreg® Square-Drive Bits

(50) Blue-Kote™ Pocket-Hole Screws
SML-C2B-250
Outdoor
Blue-Kote™ with Coarse Thread and Maxi-Loc Head
2"

All Kreg® Pocket-Hole Jigs and Pocket-hole Machines
Kreg® Square-Drive Bits

(250) Blue-Kote™ Pocket-Hole Screws
SML-C250B-50
Outdoor
Blue-Kote™ with Coarse Thread and Maxi-Loc Head
2 1/2"

All Kreg® Pocket-Hole Jigs and Pocket-hole Machines
Kreg® Square-Drive Bits

(50) Blue-Kote™ Pocket-Hole Screws
SML-C250B-125
Outdoor
Blue-Kote™ with Coarse Thread and Maxi-Loc Head
2 1/2"

All Kreg® Pocket-Hole Jigs and Pocket-hole Machines
Kreg® Square-Drive Bits

(125) Blue-Kote™ Pocket-Hole Screws
SML-C250B-250
Outdoor
Blue-Kote™ with Coarse Thread and Maxi-Loc Head
2 1/2"

All Kreg® Pocket-Hole Jigs and Pocket-hole Machines
Kreg® Square-Drive Bits

(250) Blue-Kote™ Pocket-Hole Screws
SML-C250B-2000
Outdoor
Blue-Kote™ with Coarse Thread and Maxi-Loc Head
2 1/2"

All Kreg® Pocket-Hole Jigs and Pocket-hole Machines
Kreg® Square-Drive Bits

(2000) Blue-Kote™ Pocket-Hole Screws