Screw Selector Wheel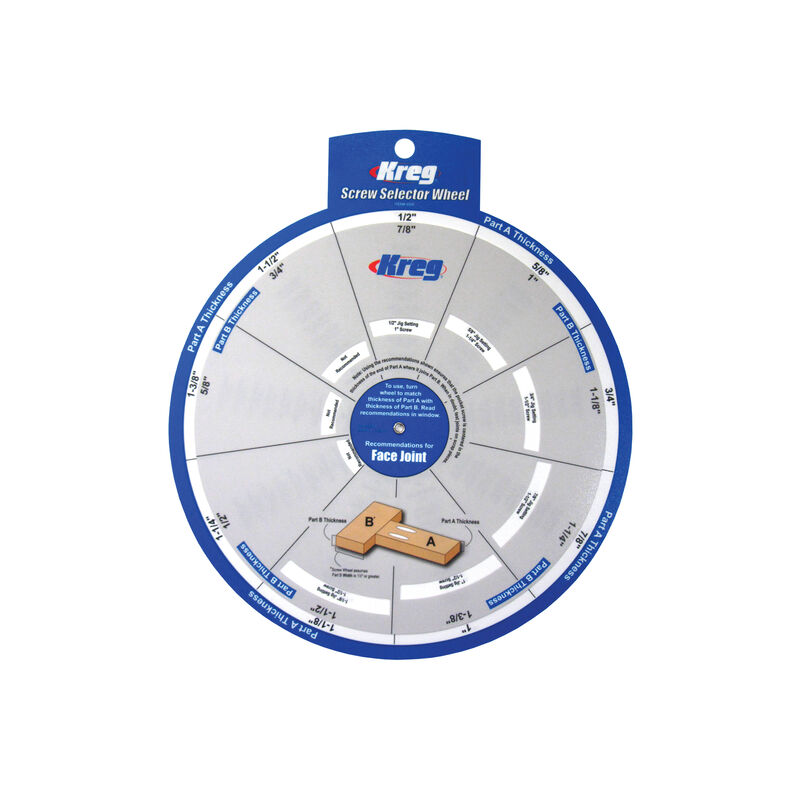 Product Details
The Screw Selector Wheel makes it easier than ever to build projects with Kreg Joinery. Just dial in the thickness of each piece to be joined — whether those thicknesses are the same or different — and the Wheel shows you the correct screw length and Kreg Pocket-Hole Jig setting.
Two-sided: shows face joints and edge joints
Works with 1/2", 5/8", 3/4", 7/8", 1", 1 1/8", 1 1/4", 1 3/8", 1 1/2" (12mm, 16mm, 19mm, 22mm, 25mm, 28mm, 31mm, 35mm, 38mm) material
Compatible with the Kreg Pocket-Hole Jig K3, K4, K4MS, K5, K5MS and R3
Durable .5mm polypropylene construction
Tab with hole makes Wheel easy to hang
We take customer
satisfaction seriously.
If you have any questions, or issues for any reason, visit our Support Page for answers to common questions, and ways to contact us directly.
Specifications
Technical Specifications
features

Shows face joints and edge joints
Tab with hole makes wheel easy to hang

construction
.5mm polypropylene
compatibility
Works with 1/2", 5/8", 3/4", 7/8", 1", 1 1/8", 1 1/4", 13/8", 1 1/2" (12mm, 16mm, 19mm, 22mm, 25mm, 28mm, 31mm, 35mm, 38mm) material
includes
(1) Screw Selector Wheel