Kreg® Easy-Set Pocket-Hole Drill Bit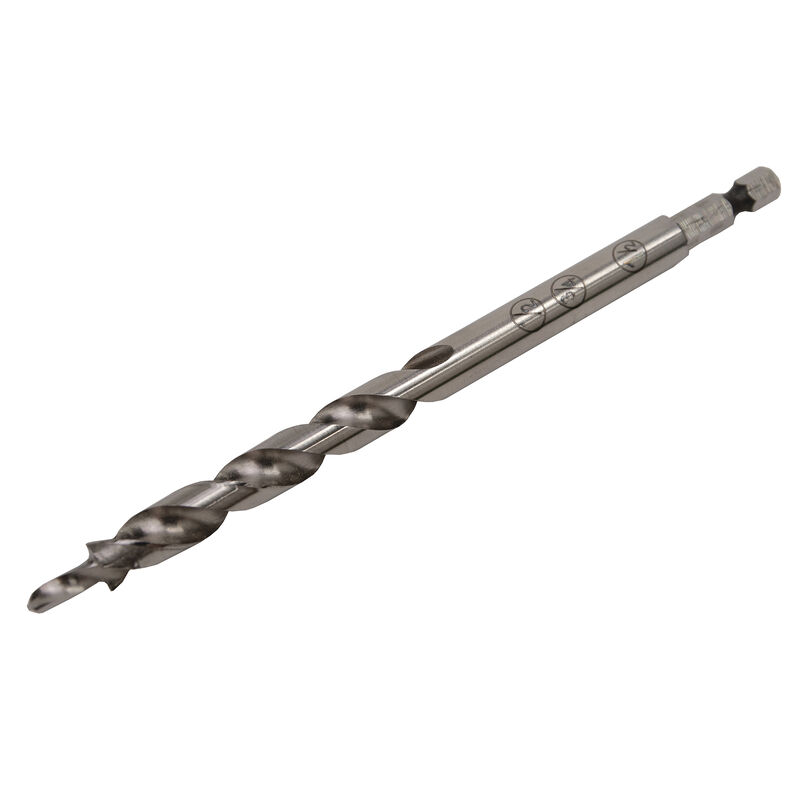 Kreg® Easy-Set Pocket-Hole Drill Bit
Stepped drill bit for creating pocket holes using a Kreg® Pocket-Hole Jig
Works with materials from 1⁄2" to 1 1⁄2" thick
Easy-set etched markings for 1/2", 3/4", 1 1/2" materials
Direct replacement for drill bit included with Kreg® Pocket-Hole Jig 320, 310
Also works with K5, K4, K3, R3, Mini, and Foreman (DB210)
Compatible with Kreg® Pocket-Hole Jig 500- and 700-series
1/4" hex shank works with quick-change drill chucks
The Easy-Set Pocket-Hole Drill Bit is the same 3⁄8"-diameter stepped bit that comes with Kreg® 300-Series Pocket-Hole Jigs. If you have a worn bit, or if you want to add another bit to your pocket-hole tool collection, this is the perfect choice. This bit works with materials from 1⁄2" to 1 1⁄2" thick, and features engraved markings for 1⁄2", 3⁄4", and 1 1⁄2" materials to match up with the Easy-Set Stop Collar. A 1⁄4" hex shank fits standard quick-change chucks. Compatible with all Kreg Pocket-Hole Jigs.
features
Direct replacement for drill bit included with Kreg® Pocket-Hole Jig 320, 310
construction
High-Speed Steel
capacity
Etched markings for 1/2", 3/4", 1 1/2"
compatibility
All Kreg Pocket-Hole Jigs and DB210
Easy-Set Stop Collar & Material Gauge/Hex Wrench Kit
1/4" hex shank works with quick-change drill chucks
includes
(1) Easy-Set Pocket-Hole Drill Bit