Adaptive Cutting System 48-Tooth Saw Blade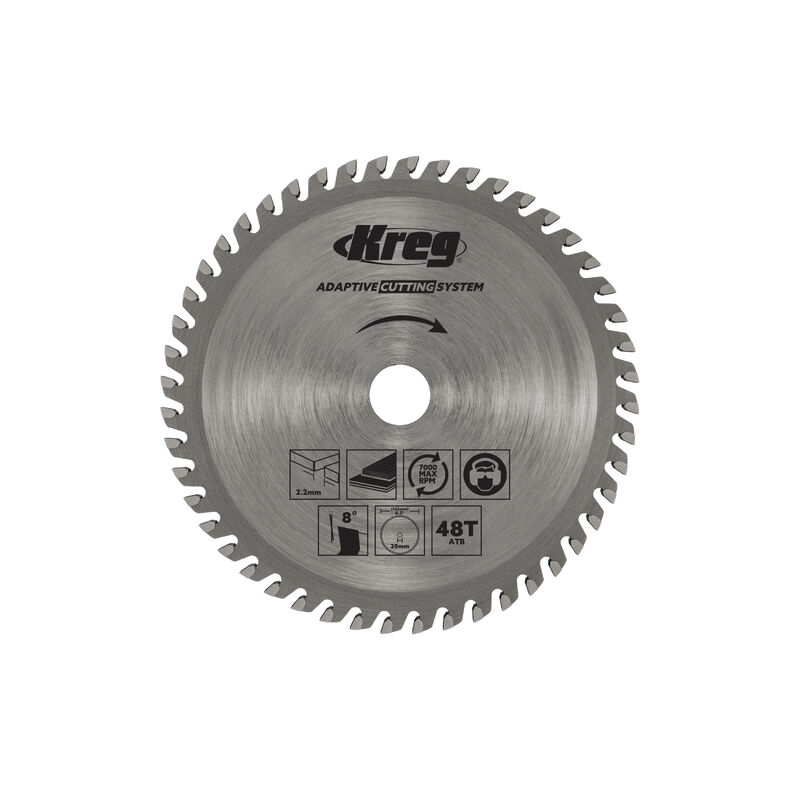 Adaptive Cutting System 48-Tooth Saw Blade
48-tooth, carbide-tipped saw blade
Delivers optimum performance for ripping or crosscutting solid wood, plywood, and other sheet goods
Laser-cut steel body with anti-vibration slots for smooth, quiet operation
6 1/2" (165mm) diameter, 20mm arbor hole, 2.2mm-wide kerf
High-performance blade for the Kreg Plunge Saw
Keep an extra blade on hand with this high-performance, 48-tooth, carbide tipped blade—the same one that's included with the Adaptive Cutting System Plunge Saw.
The laser-cut body ensures flatness, while anti-vibrations slots ensure smooth, quiet cutting. The blade is designed to offer optimum performance when ripping and crosscutting solid wood as well as plywood and other sheet goods.
This 6 1/2" (165mm) diameter blade has a 20mm arbor hole for compatibility with the Plunge Saw, and cuts a 2.2mm-wide kerf.
*Designed for use with the Adaptive Cutting System Plunge Saw
features
Designed exclusively for the Kreg Plunge Saw
48 micrograin carbide teeth
Laser-cut steel body with anti-vibration slot
construction
Laser-cut steel body with anti-vibration slots for smooth, quiet operation
compatibility
Plunge Saw
Splinter Guards
dimensions
6 1/2" (165mm) diameter, 20mm arbor hole, 2.2mm-wide kerf