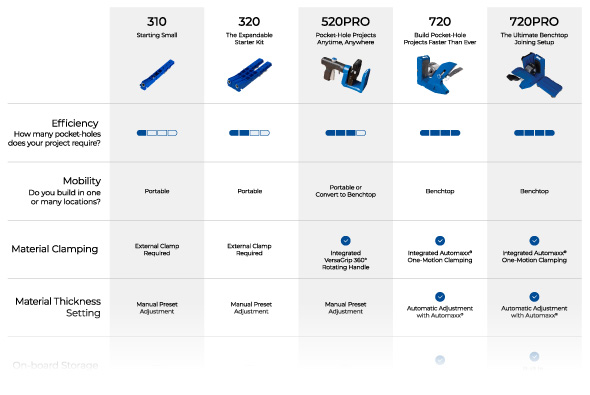 Find the Right Pocket-Hole Jig
It's important to work with a pocket-hole jig that best suits your project needs. If you work primarily on smaller parts, then a stationary jig that you clamp to a benchtop is a good choice (like the Pocket-Hole Jig K5 or K4). With this type of jig, you bring the work-piece to the jig to drill the pocket holes. They can also be mounted to some workstations, like the Kreg® Mobile Project Center.
For larger projects with long or wide parts, a portable jig is a good solution (like the Pocket-Hole Jig 320 and 310). You can also remove the Drill Guide Block from your K5 or K4 for portable use.
The Pocket-Hole Jig HD is a great solution if you're working on large projects that use 2x4 and larger boards.
Finally, if you drill a lot of pocket holes, a pocket-hole machine (like the Kreg Foreman) can really speed up your work.