Hardware Installation Kit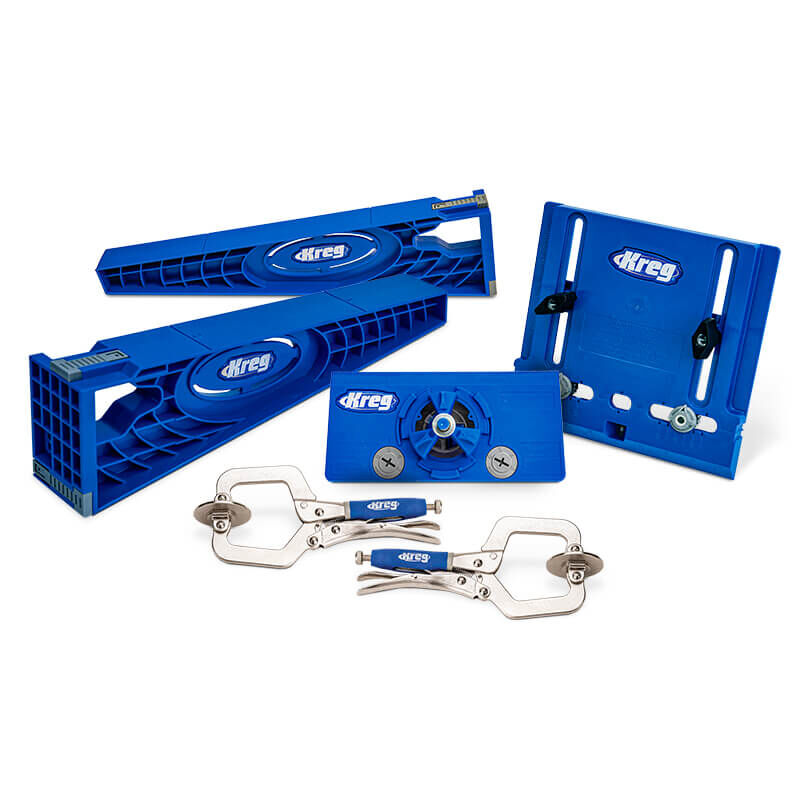 Install drawer slides, concealed hinges, and cabinet pulls easily
Built-in measuring scales and stops eliminate measuring errors
Reliable, repeatable accuracy for professional results
Simple to use with any drill - no special tools needed
Strong, lightweight materials for easy handling
Included adjustable clamps work with all three jigs
Product Details
Make hardware installation easy—and save money—with this limited-time offer.
Confidently install knobs and pulls, concealed cabinet door hinges, and drawer slides to give your projects the perfect finishing touches using these three ingenious hardware installation jigs. These durable, adjustable jigs position hardware easily and accurately to ensure accurate, repeatable, results every time. And they do it all with an ordinary drill.
The Hardware Installation Kit contains three jigs—one for drawer slides, one for concealed cabinet hinges, and one for knobs and pulls. The kit also includes a pair of versatile clamps that hold the jigs in place while you work, and that are handy for lots of project-building purposes. Plus, with this limited-time offer, you save over 10% vs. buying them all separately.
The Cabinet Hardware Jig features moveable, hardened-steel drill guides that lock in place to align with common hole-spacing measurements for cabinet knobs and pulls. This allows you to confidently drill straight, accurately positioned holes. A moveable edge guide and built-in measuring scales (in imperial and metric) ensure that those holes will be positioned where you want them every time, which means you can drill as many holes as you need without the uncertainty and potential mistakes that can come with measuring and marking every one.
The Concealed Hinge Jig allows you to drill cup holes for concealed cabinet door hinges using just a drill. The jig positions an included carbide-tipped bit exactly at the proper position and offset, and drills to the perfect depth every time thanks to a depth stop collar. The jig is simple to use, and it ensures that you can mount cabinet doors that fit great and work properly.
The Drawer Slide Jig simplifies drawer installation by aligning slides in the cabinet and on the drawer. Built-in tabs make the jig easy to align to support the slide inside the cabinet, and to support the drawers as you attach the slides to them. The jig is simple to use, and it ensures that every drawer fits right and operates smoothly.
The Classic 2" Face Clamps are perfect for holding the jigs in place while you work, for assembling pocket-hole projects, and for lots of other project uses. The kit includes two.
We take customer
satisfaction seriously.
If you have any questions, or issues for any reason, visit our Support Page for answers to common questions, and ways to contact us directly.
Specifications
Technical Specifications
construction
Durable plastic polymer, hardened steel
capacity

Drawer Slide Jig: drawers 14" and deeper
Cabinet Hardware Jig: knobs, pulls 2 1/2" to 5" / 64mm to 128mm
Concealed Hinge Jig: 35mm hinges with 3mm to 6mm offsets
Classic 2" Face Clamp: 2 1/4" (57mm) clamping capacity, 2" (51mm) Reach

includes

(1) Drawer Slide Jig
(1) Concealed Hinge Jig
(1) Cabinet Hardware Jig
(2) Classic 2" Face Clamps