Ways Kreg Tools Work Together
This month in Kreg Plus, we'll highlight different ways you can pair Kreg products to build projects faster, stronger, and easier than ever.
If you don't have a dedicated shop, or simply want to take your projects outside, the Kreg Mobile Project Center allows you to make any place your workspace. In one mode, it's a sturdy sawhorse - great for supporting long boards as you cut.

The Clamp Trak and included Bench Clamp with Automaxx provide multiple ways to hold workpieces. Hole patterns on the table accept included Bench Dogs - great for cutting, routing, and sanding. The Mobile Project Center also accepts Wood Project Clamps.

When you need even more workspace, you can connect two Mobile Project Centers together with the included connection keys.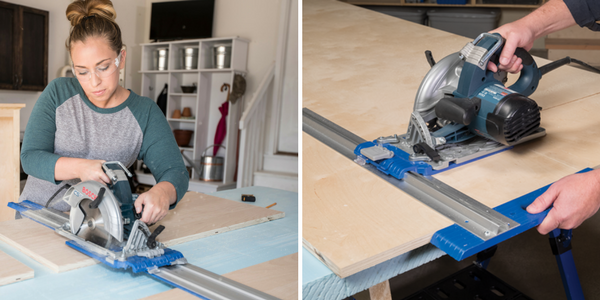 When you need to cut sheet goods down to size, the Kreg Accu-Cut is a great choice. It will help you make straight, accurate, splinter-free cuts in plywood and other sheet goods. One great feature is that you can remove the Accu-Cut sled from the track and install it on any Kreg Rip-Cut. The sled slides right onto the Rip-Cut guide arm and locks in place, allowing you to make long cuts, such as ripping a sheet of plywood lengthwise, with edge-guided accuracy.
Best of all, switching from the Accu-Cut to the Rip-Cut doesn't require any changes to the setup on your Accu-Cut sled. So, when you're ready to switch from edge-guided cutting back to track-guided cutting, all you have to do is slide the sled off the Rip-Cut and set it back in place on the Accu-Cut track.
| | |
| --- | --- |
| | If you'd like some added stability while drilling pocket holes, you can clamp your Kreg Jig® to the Mobile Project Center tabletop or your work surface. Another option is to screw your jig (K5 or K4) to a work table or cabinet. |
The Micro-Pocket Drill Guide is great for smaller projects with thinner stock, while the HD Kreg Jig® is optimized for large outdoor projects and materials 1 1/2" thick and thicker. While they can be used portably, both are compatible with the Kreg Jig® K5, K4, and K3 benchtop base.
| | |
| --- | --- |
| | When it's time to fill your pocket holes, create custom plugs from any wood species with the Custom Pocket-Hole Plug Cutter. Just like the Micro and HD Jigs, the Plug Cutter fits into any Kreg Jig (K5, K4 or K3). Create standard plugs with the included bit. Also works with HD and Micro bits (sold separately). |
| | |
| --- | --- |
| | Many projects call for shelves, and the Shelf Pin Jig is the perfect tool for the job, whether you're adding shelf pin holes to existing furniture or building custom shelves from scratch. To speed things up, connect multiple Shelf Pin Jigs together with the included Jig Extender. |
We offer a wide variety of pocket-hole screws for all of your project needs. If you're not sure where to start, our Pocket-Hole Screw Starter Kit is a great choice for those new to Kreg Joinery, or as a selection to keep on hand for making repairs.

Two more options are the Project Kit and Outdoor Project Kit, both of which contain larger selections of our most popular screws in portable storage cases.
Kreg Hardware Containers (available in Small and Large) are the perfect place to store and organize Kreg Screws and other hardware. These handy containers are the same durable, resealable, reusable containers that are used to package Kreg Screws.
The Kreg Screw Organizer offers a great way to store Kreg Screws in a compact, easy-to-carry, easy-to-store package. The Screw Organizer is also a perfect companion to the Kreg System Organizer, making it easy to create a coordinated, stackable organizing system for Kreg Screws and an entire Kreg Joinery System.